Teaching around plc training occupies an essential position in teaching mechatronics, machinery, automation, and other majors. PLC training kit is an indispensable experimental instrument for vocational colleges and higher education. In addition, plc control technology is a competition item of vocational skills competitions, such as the most authoritative world vocational skills competition. Vocational colleges continuously send students to participate in contests to enhance students' practical abilities.
As a manufacturer producing vocational and technical education training equipment, Dolang has many sponsored plc training kits for world-class vocational skills competitions. These equipment have won wide acclaim from users for their advanced technology, excellent quality, and remarkable teaching effect. Sponsoring the vocational skills competition helped Dolang to accumulate experience in vocational education and technical training projects. Over the past few years, Dolang has used these experiences, with user feedback and teaching needs, to create generations of plc training kits.
We've made it our mission to offer users superior services. So we have summarized some of the questions that customers want to know most to help customers buy the best plc training kit.
What is a plc training kit?
Vocational and technical education training equipment is highly specialized. Many people outside the industry are unfamiliar with the plc training kit. Therefore, I will briefly introduce plc and plc kit for training.
What is PLC?
A programmable logic controller, or PLC, is an electronic device that operates digitally and was created specifically for use in industrial settings. It adopts a programmable memory and stores operation instructions such as logic operation and sequence control. You can regulate various mechanical devices or manufacturing procedures through digital or analog input and output. PLC control seems far away from us, but it is not. It is closely related to our daily life, such as traffic lights and elevators.
PLC training kit
The plc training kit appeared to comply with the industrial control development process and meet the teaching needs. PLC programmable controller is a new industrial control device developed based on a microprocessor. With its small size, strong function, and high reliability, it soon occupies a dominant position in industrial control and continues to develop. According to this development situation, major vocational colleges and higher education have incorporated PLC programming into their teaching tasks as a compulsory course for automation, mechatronics, and other majors.
As an applied course, students must do many experiments when learning PLC. However, the experimental site is limited, and there are few factories for students to visit and study. Therefore, the PLC training kit solves the problem of insufficient equipment.
PLC training kit simulates the practical application of PLC control in industrial production. Usually, one piece of equipment can train a variety of projects.
Purchase guide
The plc training kit is roughly divided into a plc experimental bench and a portable plc training kit.
PLC trainer kit VS Portable plc trainer kit
The plc course is highly comprehensive and practical. It is difficult for students to digest and master this knowledge only by books and teachers teaching plc. Therefore, students need to pass a lot of practice, combining theory and practice, to achieve the flexible use of plc technology. Nowadays, many schools have a great demand for plc training kits. Still, they can only afford to purchase plc trainer kits in small quantities due to space limitations or insufficient budget. Many schools will choose a box-type plc trainer kit to avoid affecting teaching. Although both the plc training kit and portable plc training kit can meet teaching needs, many people also need clarification about which one to buy. The pros and cons of both types of training equipment are listed below to help you combine your purchases with your needs.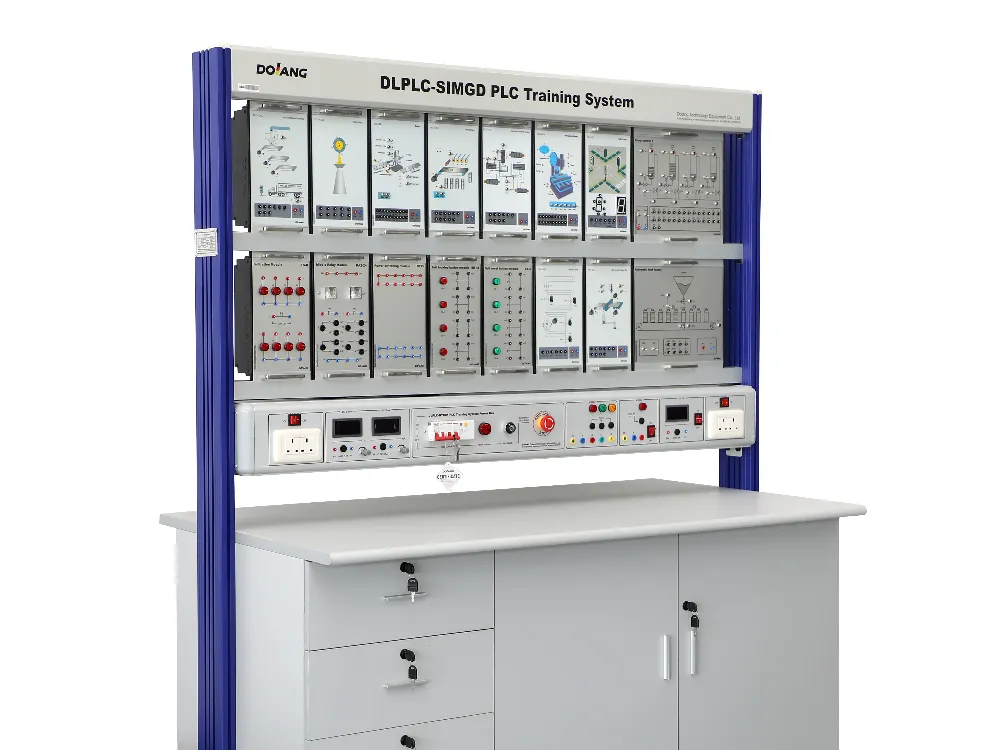 PLC programming training kit
Advantage:
Comprehensive training program. The plc trainer kit is equivalent to an experimental bench, simulating mail sorting, automatic feeding, loading, etc. By installing different modules, the training of various projects can be realized.
It can be retrofitted. The plc training kit adopts a modular structure. If the equipment cannot meet the needs in the future, the test items can be added only by adding parts.
The supporting content is rich. The plc trainer kit combines modern information technology. It contains a wealth of computer CDs. The use process restores the real process of industrial production to the greatest extent.
Shortcoming:
Platform plc kit for training is more expensive and bulkier than portable plc trainer kits. If you buy such equipment, you must have enough space to place it.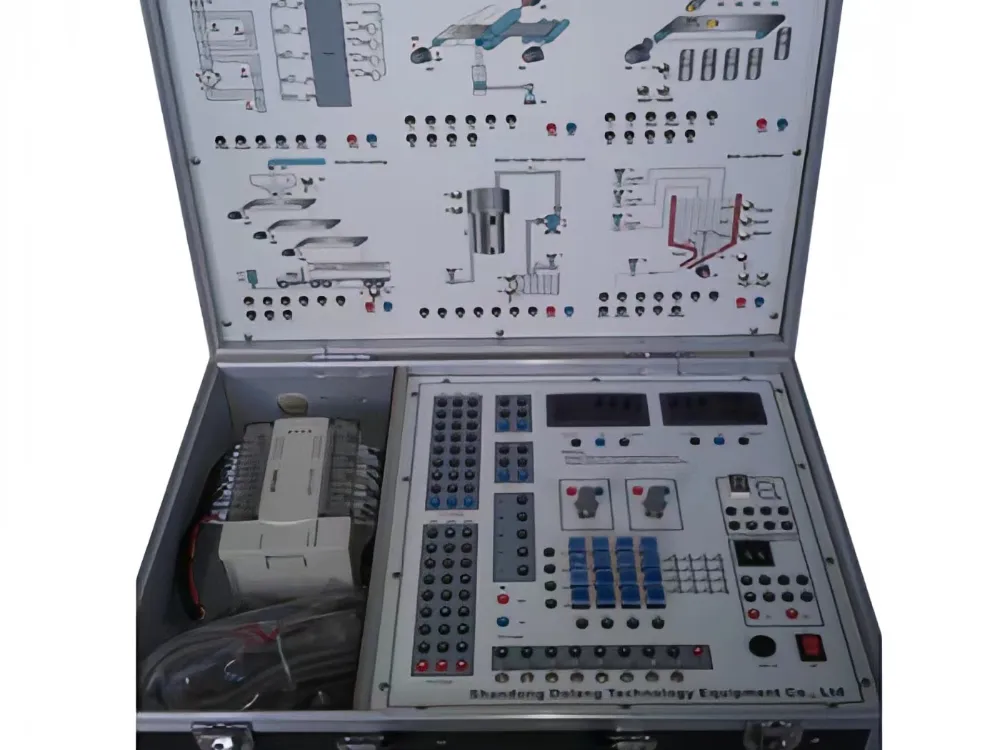 Portable plc training equipment
Advantage:
Economical price. The box-type plc trainer kit can train basic plc operations and is cost-effective. It is especially suitable for those people. Those who have yet to graduate and want to strengthen their professional training and those who wish to learn PLC programming need entry-level PLC programming training kits.
Easy to carry. For students, the portable plc training kit is easy to carry. They can take their devices to and from home and school.
Shortcoming:
Training programs are limited. The box-type plc programming training kit can only train some relatively simple instructions. If you need to train complex instructions in teaching, you still need to use a platform plc kit for training.
Platform-type plc training equipment and box-type plc programming training kit have advantages and disadvantages. Students can use the platform-type plc training equipment in the laboratory and the box-type plc kit for training during self-study to improve their academic performance. As long as schools use both devices in teaching, they can complement each other.
Functions of PLC programming training kit
Meet the teaching needs
The plc training equipment provides teaching tools for automation, mechanical, mechatronics, and other majors. Teachers use these experimental devices to intuitively present theoretical knowledge to students. This enables students to apply knowledge on time and find their own deficiencies. This kind of pre-job training students to help students quickly adapt to new roles after entering the workplace.
Self-study PLC improves the professional level.
Some people who want to change their career path and work in PLC control-related industries in the future can take advantage of as many learning resources as possible. Such as buying a portable plc training kit, watching online courses at home, and self-learning plc programming. People with sufficient funds can choose to attend schools specializing in plc programming and receive continuing education.
Training competition items
The plc kit for training combines computer technology to train students' operational ability through two levels of operation and simulation. PLC control is a compulsory item in the vocational skills competition, and it is the dream of all students to get a place in the competition. Being ranked in national and world-class competitions can exercise your ability and help you in your future studies and job hunting. Various competitions are in full swing, so plc training equipment suppliers who have sponsored competition equipment for the vocational skills competition are particularly popular. Some of the equipment produced by these manufacturers is specially designed for competition. If this equipment can be used for teaching, it will benefit students participating in future contests.
The service life of plc training equipment
PLC programming training kit has a service life of at least ten years. Taking Dolang equipment as an example. We purchase parts from well-known brands such as Siemens, Mitsubishi, Omron, etc., to ensure that all components have quality assurance. In addition to sourcing parts from famous brands, we manufacture our own components. Even if the customer needs a replacement part after many years, we can provide the customer with the replacement part.
It can train the primary PLC controlling contents, whether a platform or portable. This blog will always help you, but which Plc training kit to choose in the end still has to return to your actual needs and budget.