High technologies are changing fast. Today, the economy and society have entered the era of Industry 4.0. The Industry 4.0 project is divided into three major themes: smart factories, smart production, and smart logistics. These three themes have shared content, that is, industrial robots. The industrial robot can be seen in many places. Industrial robotics plays an essential role in the process of Industry 4.0. How important are industrial robots? This blog post will discuss this issue.
1 Industrial robot is an important part of the development of Industry 4.0.
What is an industrial robot?
Is it the robot that you think?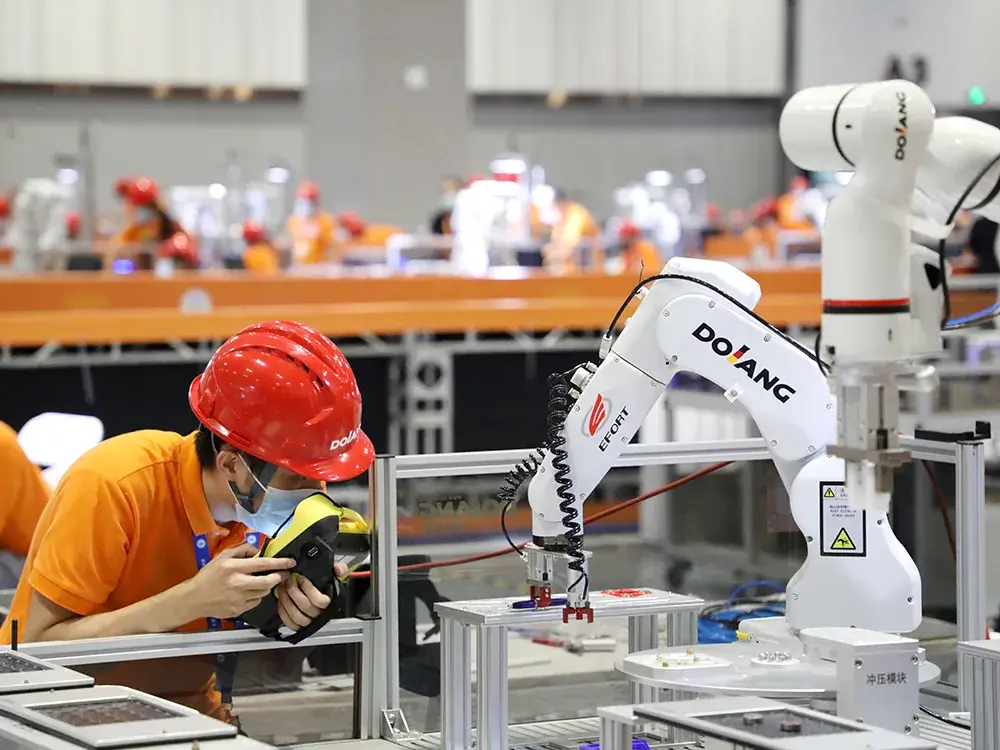 This is an industrial robot. It is different from the robot we think.
In the 1950s, Unimation produced the first industrial robot, which was first put into use. After that, various developed countries scrambled to develop robotics technology and established laboratories. In the 1970s and 1980s, European industrial robots developed rapidly, ABB and KUKA robots entered the market, and industrial robots became popular in developed countries. They developed towards high speed, high precision, lightweight, systematization, and intelligence to meet industrial production needs. In the 1990s, with the advancement and development of computer and intelligent technology, second-generation robots with certain sensory functions began to be promoted. The third-generation intelligent robots with vision, touch, high flexibility, and walking have appeared one after another in the application.
The development and application of industrial robotics are essential for measuring the level of science and technology development and high-end manufacturing in a country. Today, industry robots occupy a vital position in the development of industrial automation. As the world's largest industrial robot market, China's total robot industry revenue in 2021 will exceed 130 billion RMB (about 18.3 billion U.S. dollars). Among them, the output of industrial robots is 366,000 units. This shows that the application of industrial robots covers the national economy.
2 Applications of industrial robots.
Starting from the application environment, they are divided into two categories: industrial robots in manufacturing and service and humanoid robots in non-manufacturing environments. Among them, industry robots are classified according to different standards.
According to the movement form of the arm, it is divided into:
Cartesian coordinate type
Cylindrical left standard type
spherical coordinate type
joint type
Based on the control function of the movement of the actuator, it is divided into:
point type
continuous trajectory type
According to the program input method, it is divided into:
programming input type
teaching input type
Industry
Industrial robots have incredibly free labor in working links such as material handling and welding. They have made outstanding contributions to human beings. Industry robots are far and wide used in all walks of life. According to the survey, industrial robots are used in 60 industry categories and 168 industry categories. Among them, industry robots in the automobile, electronic and electrical industries, food, and logistics industries have the most applications and are familiar to us. In addition to these industries, industrial robots are also used in aerospace which we are unfamiliar with.
Medicine
The medical robot industry has yet to mature, but it still has excellent potential for development. With the deepening population aging, people's demand for medical resources is getting increased. Through the application of medical robots, they can do auxiliary work for medical staff and improve the efficiency of medical treatment. Therefore, although medical robots are currently in the stage of industrial introduction, it is believed that there will be a blowout development in the future.
Education
As the name implies, the application of industrial robots in education is nothing more than teaching and experimental equipment, especially in vocational and technical schools. Majors such as industrial robotics, industrial automation, and mechanical engineering require robotic training equipment for teachers and students to teach, do experiments, and take exams. There are many industrial robot training equipment put into teaching.
3 Why industrial robot is important?
Industrial robots are closely related to various industries.
The industrial robot industry is developing well, and other industries are also growing well. In addition, the development level of industrial robots is an important sign to measure a country's national strength. Today, we are in the era of Industry 4.0, the age of using information technology to promote industrial transformation, and the age of intelligence. Every country is trying to seize the opportunity in the new era and complete the fourth industrial revolution ahead of schedule. As written at the beginning of the article, advanced technology is changing with each passing day. With proper attention to the development of robots, the country will eventually stay caught up and not fall behind other nations.
Industrial robots are closely related to high technology like the Internet of Things.
Industrial robots and the Internet of Things work together to form the Industrial Internet of Things. People get all status data at a glance, from hardware to software to the controller. Completing the Industrial Internet of Things is also inseparable from computer technology. Hence, various high technologies are closely related and developed in coordination.
The advantages of industrial robots themselves
There are industrial robots, from small food packaging to the production of space shuttles, military equipment, and the development of high-speed rail. The wide application of industry robots has dramatically improved production efficiency and brought huge economic benefits.
High level of intelligence
Real-time tracking of industrial robots in industrial production is realized by setting parameters and editing programs for industrial robots. When a fault occurs, the purpose of restoring normal production is achieved by adjusting parameters and debugging equipment in time.
High productivity and safety
In addition to the many-mentioned advantages of increasing production efficiency, the benefits of industrial robots are high safety. Some high-risk jobs, such as steel cutting, casting, etc., must always be concentrated when the work is in progress. A little carelessness may cause dangerous accidents. Industrial robots can be perfectly competent for this kind of work. As long as the parameters are set, it will continue to work according to the set orientation, angle, and action, and the products produced are more standardized.
The advantages of industrial robots are numerous, and their advantages are becoming more and more prominent in today's faster and faster economic rhythm.
4 The future development trend of industrial robots
As an essential part of the Industry 4.0 era, industrial robots have broad prospects for development. The application of industry robots in manufacturing and logistics is very common. Still, there are largely medical, aerospace, military, offshore, and subsea operations vacancies. People still need to make continuous efforts to fill the gaps.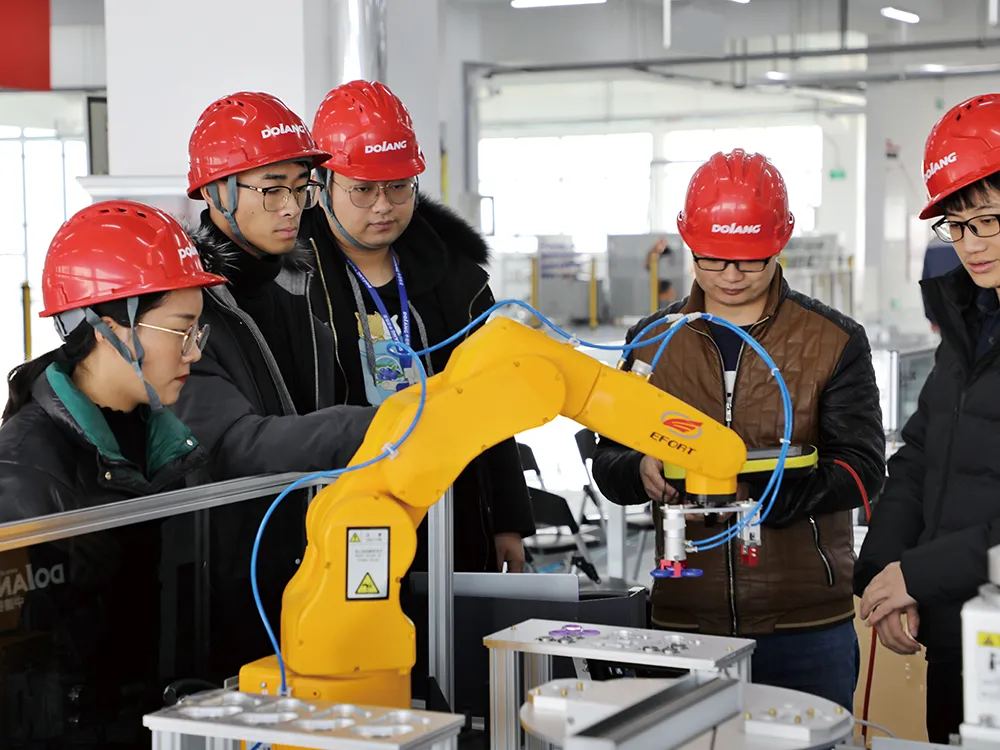 To meet the teaching needs of industrial robots in education, Dolang has launched robot training equipment to make technical contributions to vocational education. Dolang, established in 1998, has always aimed to produce that customers' satisfied vocational training kits with the most advanced technology and serious production standards. Industrial robot technology exists in many industries and is also important in high education. Dolang keeps its path with it and launches over 15 robotics training kits for vocational education and skills training.
Robot training equipment is one of Dolang's main product lines.
This equipment integrates robotics technology training, PLC control training, FMS training, mechanical engineering training, AI training, and industrial automation training into one, with powerful functions, first-class quality, and advanced technology. Our partners are ABB, KUKA, FANUC, Mitsubishi, and Efort, all of which are well-known brands in the robotics world. They are excellent vocational skills training equipment. In addition to having world-renowned industrial robot supplier partners, we have partnered with well-known suppliers such as Siemens. They provide PLC, touch screens, inverters, etc. We assemble various brands' equipment according to customers' needs, so we can meet the individual needs of customers.
For the past 20 years, we have cooperated with education ministries from different countries. Besides the education ministry, we have good cooperation with worldwide dealers. Over long-time cooperation, we occupied a large market in vocational training equipment. Dolang robotics training equipment gains good praise as well.
In addition to providing service for schools, we also sponsor vocational skills competitions.
The most famous and authoritative competition is World Skills Competition (WSC). WSC is held every 2 years, which is a big attraction to teachers and students worldwide. In 2017, Dolang sponsored the China organizing committee of WSC with Dolang vocational training kits. From that moment on, Dolang better understood vocational education and training. Today, Dolang concentrates on innovation, production design, practicability, and all aspects of industrial robotics training equipment.
From the above perspectives, the importance of industrial robots goes without saying. It is not only a product of the industrial revolution but also an essential part of the new round of the industrial revolution. It is also a significant symbol of a country's scientific and technological strength. Industrial robots will occupy an important position for a long time.