1.Overview
This device is made of aluminum and transparent organic material. its structure and the actual elevator are same, which almost have real elevator functions. In fact we can take it as real elevator.
2.Technical parameter
1、Input power: AC220V  50Hz
2、Rated power: ≤1KW
3、Ambient temperature: -10℃~40℃
4、Relative humidity: ≤85%
3.Training Contents
1、Learn more on Electrical principle
2、Understand the meaning of elevator electrical components
3、how to install electrical parts
4、Train designing of layout of elevator panel
5、 Train installation electrical parts
6、 Know the principle of Electrical design
7、For more infos pls check with our project manager.
8、Clients feedback:
We are very pleased to work with Dolang equipment, since 6 years ago, we bought many equipment from Dolang group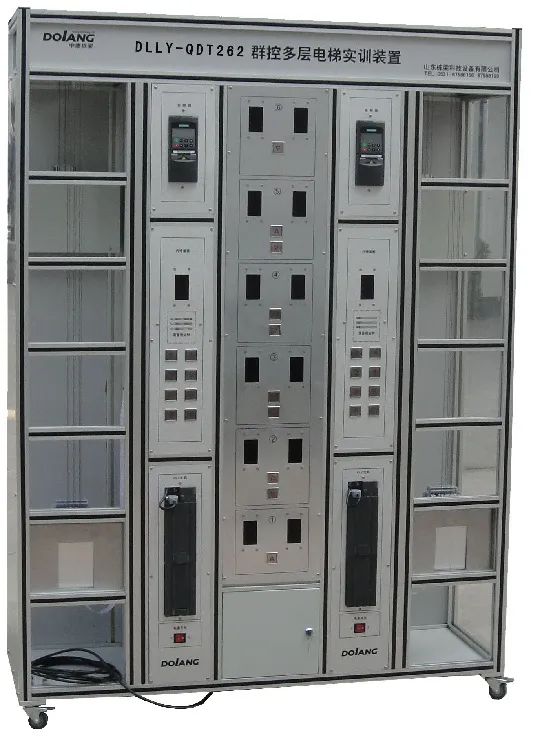 Technical parameters :
DLLY-QDT262
Input power: AC220V±5% 50Hz
Rated power: ≤1KW
Ambient temperature: -10℃~40℃
Relative humidity: ≤85%
| | | | |
| --- | --- | --- | --- |
| Model number |  Seat | Layer | Rough size |
| DLLY-QDT361 | 3 seat | 6 layer | 1950×400×1800mm |
| DLLY-QDT262 | 2 seat | 6 layer | 1420*500*1800mm |