1. Overview
The electronic training system is designed to improve the operational capacity of students from electronic majors. It contains lots of electronic training content. Dolang also provides online technical training support for end-users.
Electrical and electronics technology is one basic technical knowledge widely used in different fields and industries. many technical workers and students have a different levels of requirements for basic electrical and electronics circuit knowledge, so they have different learning needs.
Dolang DLWD-DGJS series electrical and electronics engineering training equipment follow many students' and staff need and widely cover electrical, electronics, electrical drive, and electrical machine learning requirements, DLWD-DGJS series training set can be used in electrical, and electronics training as well as other fields such as university, college electrical automation, electrical skills, special electronics…
2. Technical Parameter
1. Input power: 380V 50Hz
2. Dimension: 1660 * 800 * 1840 mm
3. Training Contents
1) How to use electrical instruments and measure error calculation
2) Learn the methods to reduce measuring errors
3) Survey and map the linear and nonlinear circuit
4) Measure potential voltage
5) Learn knowledge of Kirchhoff's law
6) Verify the Superposition theorem
………
Also included more than 20 pcs of electrical experiments, electronics circuit experiments, and electrical machine drive experiments….
4. Catalog
DLWD-DGJS Series electrical and electronics engineering training equipment is designed to follow modular structure designing, by its modular feature, almost all the module experiments in the equipment can combine with other electrical, and electronic engineering training equipment as well as lab equipment. Most solutions have the following extensions: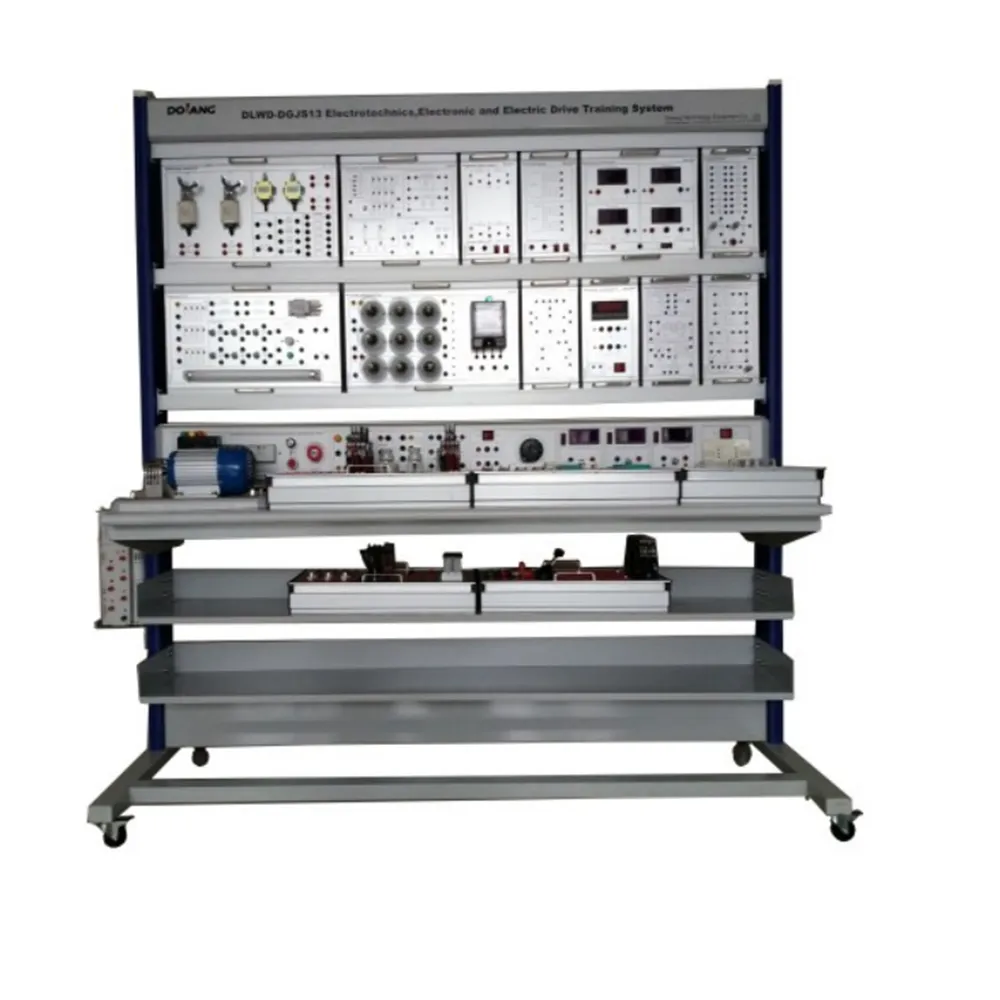 DLWD-DGJS11 Electrical Training System
This training equipment included different electrical modules, such as power supply module, AS power supply sources,Controlled Source experiment modules as well as some instruments ,MF47 Multimeter.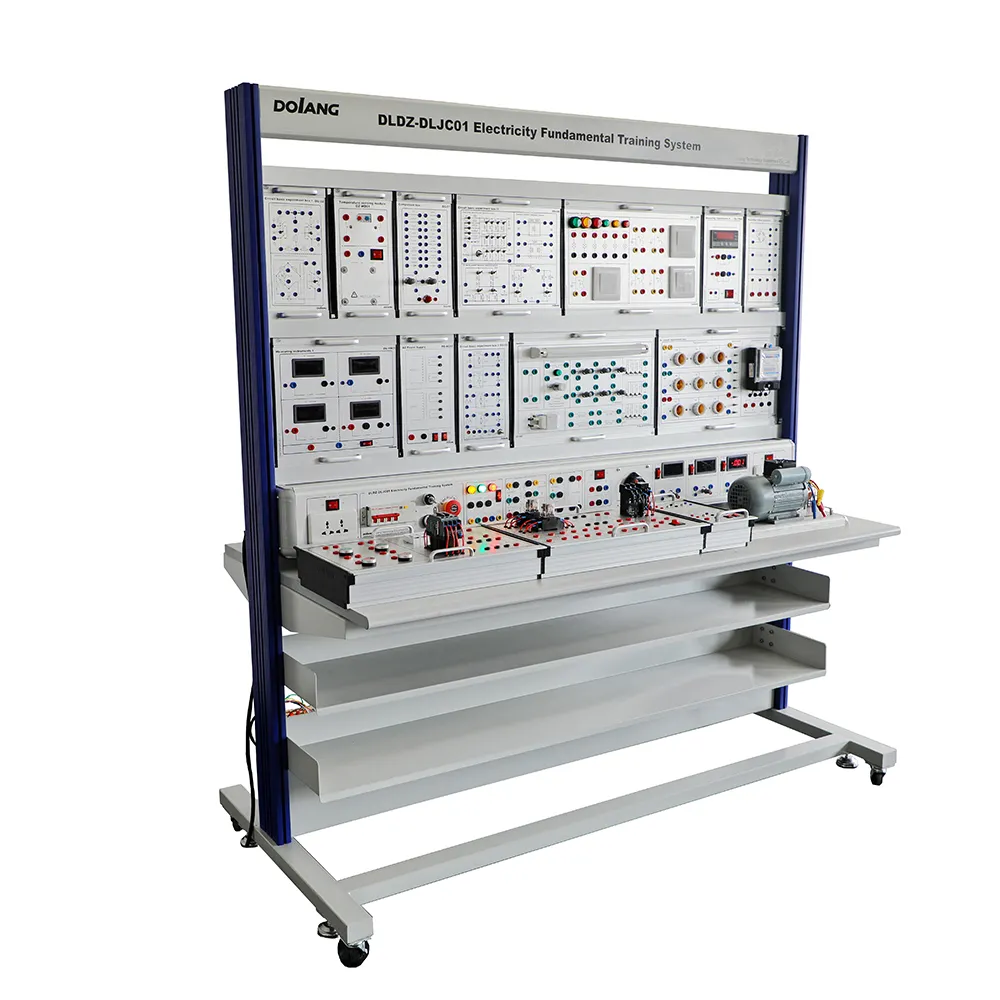 Electrical, electronics workbench
DLWD-DGJS12 Electrical and electronic lab equipment
on the basic of DLWD-DGJS11 inclease the some electronics experments , such as digital circuit, analogue circut experiment,contactor digital experiments,pulse signal experiments….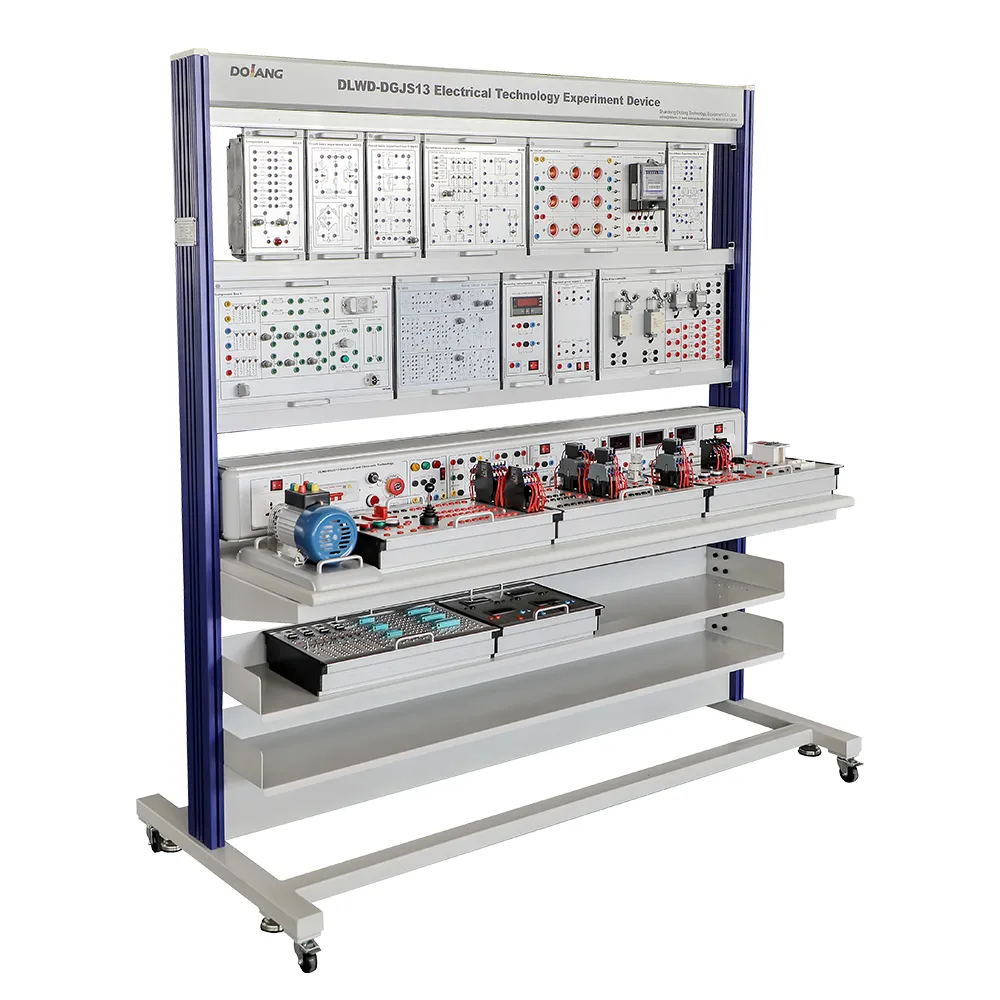 Electrical, electronics, electrical drive workbench
DLWD-DGJS13 Electrical, electronics, Electrical drive training equipment
on the basic of DLWD-DGJS12, increase electrical motor modules,. such as Three-phase asynchronous motor experiments